Wounded Nature – Working Veterans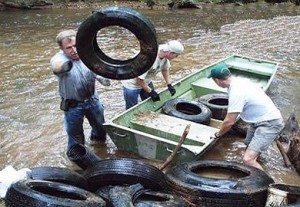 August 14, 2013
2:43 pm
On August 24th Hanckel Marine and Wounded Nature – Working Veterans will be cleaning Charleston's hard to reach coastal areas.  There are many coastal areas around Charleston that have collected trash and have never been cleaned due to their boat only access.  These are areas that should offer a pristine and quiet spot for a remote picnic or sunbathing.
Prizes will be awarded for 5 categories regarding unique trash collected by the participants.
One of the reasons trash accumulates in these remote areas is that many boaters do not want to transport or return to the dock with empties.  As a result, they not only leave their empties in these remote locations but many times they also leave the rest of their boat trash behind.
Immediately following the cleanup, Hanckel Marine will be hosting a cleanup and customer appreciation party at Island House on Johns Island.  This facility is accessible by both car and boat.  The party will be family friendly and include free food, beverages, entertainment, educational booths and inflatable play areas for children.  Admittance to the party is one bag of coastal trash per car or boat or a donation to Wounded Nature.  Everyone attending will be eligible for some spectacular door prizes.
Interested boaters can obtain details online at:  http://woundednature.org/attend-our-party/  The first 25 boats who commit to participate will receive T-shirts and decals.