The Compostable Fall Flowerpot
Another way to use pumpkins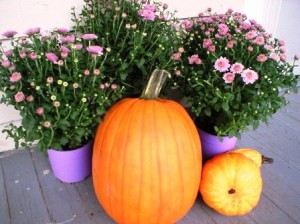 September 18, 2013
6:50 pm
Now that the weather is starting to cool down a little here and there, the autumn bug is starting to take over as squash and pumpkins begin to appear in the grocery stores and the smell of cinnamon takes the place of summer blossoms. Fall can still be a good time for planting and if you want to show off your blooms for a little before putting them in the ground, consider this fall festive alternative to a flower pot that will also turn into great compost when planted. All you need are:
a pumpkin
a carving knife
spoon or digging utensil
a small amount of potting soil
potted flowers
Simply cut off the top of the pumpkin and scoop out the pulp as you would when prepping for a jack 0′ lantern. Make sure the interior is fairly clear of pulp. Use your knife to make a drain hole or two in the bottom of the pumpkin and then add a small amount of potting soil. Place the flowers on top and fill in the edges with more potting soil.
That's it! And if you're looking for something to do with all those tasty pumpkin seeds you scooped out, here's a quick and easy recipe for toasted pumpkin seeds:
Sweet Toasted Pumpkin Seeds
Olive Oil
Pumpkin Seeds
Cinnamon
Sugar
Preheat oven to 300 F.
Clean seeds by removing pulp and rinse in cold water. Shake until dry.
Toss with a small amount of olive oil and spread on an oiled baking sheet, keeping seeds to a single layer.
Bake for 30 minutes until dry, not toasted.
Toss in olive oil and then in a blendof cinnamon and sugar and bake for 20 more minutes until toasted.