The Brains and the Mussels
WAHS Students Develop Underwater Robots to Study Coastal Ecosystem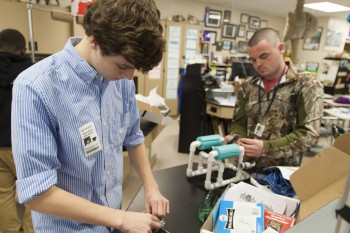 January 31, 2013
By Hannah Dockery
Contributing Writer 7:05 pm
Robots have invaded West Ashley High School.
The students in Margaret Spigner's second period Honors Marine Science class at West Ashley High School (WAHS) are finishing up a semester long project developing Remotely Operated Vehicles (ROVs). These underwater robots, designed and developed by the students themselves, will be launched into the pond outside the high school next week and test various environmental factors, such as dissolved oxygen, water temperature, pH levels, phosphate levels, and salinity.
The project began at the start of the semester when the students in the classroom developed their "Driving Question" which would dictate the entire direction of project. The honors students brainstormed and ended up with the following overarching theme to drive their work: "How can we, as a team of aquatic environmental researchers, restore and maintain the efforts made to better our local ecosystem? Additionally, how can we connect to our community and aid them in enhancing the quality of their ponds while further improving our own?"
The students jumped in full force delegating different tasks week by week, culminating in the production of ROVs that will provide research to help the team figure out ways to better the local coastal ecosystem.
By using a bathymetric map composed entirely by the students, the ROVs will be able to explore in and out of untouched crevasses in the pond. Beth Johnson, a sophomore and project coordinator of the class, says that the hands-on experience of field research and scientific production has been indescribable. "We're not just memorizing vocabulary words or writing down definitions out of a textbook," she says. "We're hands on, learning what's out there. That's the way the real world works, and that is how we are learning. It's real world experience in science and technology."
The class dubbed themselves the WATER team (West Ashley Team of Environmental Researchers) and decided to take their adventures out of the classroom, off of the campus, and into the community. By sharing their Driving Question, the overarching goal of the project, and pictures of proposed plans, the WATER team generated $2,000 in grant money to financially support their endeavors, and three boats to allow them to go out onto the pond. "They see that what we are doing is relevant to coastal protection and conservation, and they are willing to help," Johnson says.
Senior Sierra Brubaker made an interesting discovery of her own while working in the retention pond with her classmates. After coming across an unfamiliar shell unknown to Brubaker and her teacher, she decided to take matters into her own hands and use problem solving skills combined with research to determine the shell species. Several of these mysterious shells were gathered and placed into a large tank in the classroom, where Brubaker could observe their behaviors. "After a lot of time and research, I've determined that I think they are Eastern Pond Mussels, which is interesting because it is a species that are endangered," she explains. Brubaker is in contact with the Department of Natural
Resources in hopes of confirming her conclusion. "If they are Eastern Pond Mussels, I plan on creating a mussel sanctuary for them. This project in itself has sort of turned into my baby."
Spigner couldn't be more proud of the effort and dedication her students have put into this semester-long project. "They aren't just reading a textbook. They are taking initiative and using problem solving skills to make real life developments and solutions," she says. "They are scientists working in real environments. Isn't that what the workforce is like? It's not sitting around, memorizing definitions. They think rationally and then solve the problem. They are getting prepared for life after high school in fields that are most needed – science, technology, and math."
After nearly 90 days of intense research, development, and execution, the WATER team will launch five ROVs into the retention pond next week, in a friendly competition with the JROTC class, who also developed two ROVs of their own. The students will compete to see whose vehicle performs better and delivers the best results. "We have been working so hard on this, every day. We are all really invested and I'm excited to see the results. It's also a huge accomplishment, to see what we have created. We've all worked together," Johnson says.
With the United States falling behind other countries in leading academic fields, the students in Spigner's Honors Marine Science class are hard at work to push our school systems back up the charts. "It is vital that these kids learn how to work efficiently and problem solve in a real situation, not just in school," says Spigner. "And what is great is that they've enjoyed the entire process."