Sweep the Beach
Beach and River Sweep takes place September 21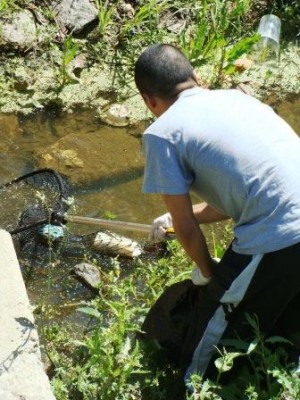 September 4, 2013
Provided by SC Sea Grant Consortium 7:35 pm
Beach Sweep/River Sweep is South Carolina's largest one-day volunteer cleanup event of its kind. Every 3rd Saturday in September, from 9 a.m. to 12 p.m., thousands of South Carolinians clear beaches, rivers, lakes, marshes, and swamps of aquatic debris. The cleanup, organized by the S.C. Sea Grant Consortium and S.C. Department of Natural Resources, has taken place annually since 1988 – when Sea Grant first started it. The Sweep takes place in conjunction with the International Coastal Cleanup, coordinated by the Ocean Conservancy. Once the Sweep is over, the Ocean Conservancy tallies all of the debris data. This data helps us learn the sources of litter so we can stop pollution before it starts.
Why pick up trash?
There's always going to be garbage, right? What difference does it make?
Aquatic debris is dangerous. Seeing the effects of it first-hand, by participating in the cleanup, can demonstrate that. Litter is a danger to our wildlife, our safety, and our economy.
South Carolina is lucky to have such a vast amount of wonderful aquatic resources. We are home to a diverse wildlife population. Our state's economy thrives on the tourism industry. However, if we don't care for our natural resources, they simply won't be there. Can you imagine a future in which your children or grandchildren won't be able to enjoy our beaches? Won't fish? Or boat? If we don't address the consequences of our throwaway, disposable lifestyle now, these grim possibilities could become our reality, experts tell us. Don't let it happen!
Want to be a site captain?
Perhaps you know of an area that needs attention. Why not coordinate a cleanup for that site? Check the list of sites cleaned below, and remember that not all of the site may have received attention. If your place is not listed, we could use your help. It's not hard; we have site captains who have been with us since the very first cleanup! We provide all the supplies you need, detailed instructions and information, volunteers, publicity, and a free Beach Sweep/River Sweep t-shirt. Contact Beach Sweep, to learn how. There is no better feeling than knowing you've made a difference where it counts.
Have other ideas about how to help? Want more information? E-mail Beach Sweep at susan.ferris.hill@scseagrant.org or call (843) 953-2078.
Beach Sweep captains around the Charleston area include:
Isle of Palms
Stacey Johnson
(843) 886-0687
staceysusanne@yahoo.com
Sullivan's Island – Cleanup starts at 10:00 a.m.
Olivia Williams
(843) 883-3123 x50
olivia_williams@nps.gov
Land-based cleanup on the Vickery's side of Shem Creek, down Mill Street, towards the boat landing.
Kelly Cousino
(843) 884-1229
kcousino@tompsc.com
Water-based cleanup on Shem Creek
Kathie Livingston
(843) 697-2075
woodswoman62@yahoo.com
Pickett Recreation Area (Old Pitt St. bridge)
Kent Prause
(843) 884-1229
kprause@tompsc.com
Ben Sawyer Causeway
Dionna Ebeling
(843) 375-5462
cell (843) 870-4364
debeling@mpwonline.com
Charleston Waterfront Park
Edward Evans (843) 762-0625
edwardevans@knology.net
Ashley River Coast Guard base to Bristol Marina
Stuart Robertson
(843) 278-4934
SRobertson@megadock.us
Marsh areas under Cosgrove Bridge – Cleanup starts at 2:00 p.m.
Jennifer Scales
(843) 579-7501
scalesj@charleston-sc.gov
Marsh area under Harborview Rd. exit, James Island
Pam Ferguson
(843) 437-7513
epidemiologydoc@hotmail.com
Ashley River at Middleton Place
Luke Pope
(843) 300-8706
charlestonkayak@gmail.com
Longbranch Creek out to Stono River and marsh area behind Clemson Experimental Station
Clyde Umphlet
(843) 343-7074
LibertymarineSC@aol.com
Upper Wando River to Horlbeck Creek – 526 bridge to 41 bridge
Brad Kerr
(843) 991-2626
bradley@carolinaboatyard.com
Folly Island Folly Beach
Marty Morganello
(843) 343-7790
mmorganello@bellsouth.net
Mariner's Cay Racket and Yacht Club
Howard Christiansen
(843) 670-8005
hrchristiansen@comcast.net
Kiawah Island
Bradley Schmoll
(843) 819-1071
bradley_schmoll@kiawahresort.com