Summer Gardening 101
Charleston Horticultural Society offers ten gardening classes in one week this August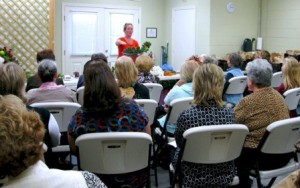 July 17, 2013
By Charleston Horticultural Society 4:09 pm
With summer in full swing and fall looming around the corner, what better way to prepare for your many garden needs than with expert advice from only the best horticulture specialists in Charleston? Whether you are a novice gardener or an avid green thumb, the Charleston Horticultural Society's Lowcountry Gardening 101 Summer School will offer something for everyone. You can choose from any class individually or enroll for the full four day session.
Individual classes:
$10 members // $15 non-members
Full Summer School Pass (all 10 classes):
$95 members // $140 non-members
MONDAY AUGUST 5th
10am – 11:30am
Annuals and Perennials for the Fall – Nancy Hart of Church Creek Nursery
Fall is already just around the corner and what better way to plan your garden than with a one on one with workshop with Church Creek Nursery's Nancy Hart? Nancy will share the latest trends in annuals and perennials and the best tips for care and maintenance for your beautiful fall garden.
1:00 – 2:30pm
Planting Your Fall Vegetable Garden – Elizabeth Beak, founder of Crop-Up food gardening 
With the growing trend of sustainable vegetable gardening at a fever pitch, what better time to jump on the bandwagon and plan your own delicious and healthy edible oasis? Elizabeth Beak will ease the pressure with simple and effective ways to plant and maintain the perfect personal veggie garden.
3:30pm – 5:00pm
Reviving Summer Containers – Sarah Petrowski, Horticulturalist, Hyams Garden Center
Are your containers suffering from too much heat? Is the rain drowning your beautiful work? Let Sarah give you some fresh ideas on how to revitalize your existing containers with some hands on demonstrations that will leave you inspired for the fall.
TUESDAY AUGUST 6th
9:30 – 11am
Weeds: Friends or Foe (a walking tour) – Pat Harpell
Take a 45-minute walk on the wild side — actually just the Greenway behind Charleston Horticultural Society's offices — with herbalist Pat Harpell as we identify and talk about the many medicinal plants that surround us. Back in the classroom, you will discover a new way to look at the 'weeds' in your garden as we explore everything from Chickweed (makes a great pesto) to purslane (packed with Omega-3 fatty acids, minerals and vitamins).
1:00 – 2:30pm
Managing Those Pesky Pests – Dr. Edward Farnworth, Ph. D
Hungry pests leaving holes in your precious plants? Dr. Farnworth, Professor of Entomolgy with Clemons University at the Coastal Research and Education Center in Charleston, will lay out the most effective and healthy ways to manage those pesky perpetrators in your garden.
WEDNESDAY AUGUST 7th
10am – 11:30am
The Art of Bulb Planting – Jan MacDougal
Growing bulbs teaches patience…which as everyone knows is a virtue. Join bulb expert Jan MacDougal as she reviews the basic growing techniques on bulbs and specifically daffodils. Almost nothing is as easy as planting daffs in the fall for springtime magic and Jan will show you how!
1:00pm – 2:30pm
The Wonders of the Window Box – Kelli Shaw of Kelli Shaw Design
Learn what vital roles color, volume and creativity play in the creation of the perfect Charleston window box. Kelli Shaw, one of Charleston's most sought after garden designers, will help you dig into your inner garden muse in this interactive instructional workshop.
3:30pm – 5:00pm
Propagation for Beginners – Catherine McGuinn
Ever wish you could master the art of plant growing via seeds, cuttings and other creative methods? Catherine McGuinn will share her experiences with propagation and teach you the basic skills that will you can then 'reproduce' in your own home and garden.
THURSDAY AUGUST 8th
9:30 – 11am
Gardening with Ease and Age – Pat Harpell
Our love of gardening needn't be put aside just because we are no longer as young, flexible, strong or mobile. Learn some of the secrets of being an active gardener regardless of your physical or cognitive limitations. This class is appropriate for caregivers as well as those wishing to get their hands dirty again — or keep them that way. The class will discuss vertical, container, and easy-maintenance plants as well as new technologies that make adaptive gardening a reality for almost all levels.
1:00pm – 2:30pm
Meet the New Kids on the Block – Susan Epstein
Come meet some new and unusual plants and why you will want to make them your new best friends. CHS's resident horticulturalist Susan Epstein will show you where to find these 'new kids on the block' and what to do with them when you bring them to your garden.
To purchase tickets online visit the full Summer School page HERE. You can also call CHS at 843.579.9922. All classes are limited to 24 students.