Sea Turtle Release This Wednesday, July 31
Three sea turtles will hit the waves at Isle of Palms County Park at 10 a.m. Come out and cheer them on!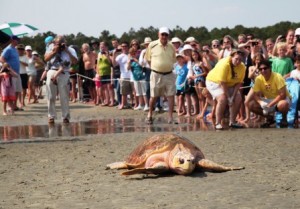 July 29, 2013
By SC Aquarium 4:49 pm
Big news out of the South Carolina Aquarium's Sea Turtle Rescue Program– an adult female loggerhead rehabilitated and released in 2010 is contributing to the sea turtle population, and three sea turtles are ready to be returned to the Atlantic Ocean. The public is invited to bid farewell to a Kemp's ridley, loggerhead, and green sea turtle on Wednesday, July 31, 2013 at 10 a.m. at the Isle of Palms County Park.  The release is being held in partnership with the South Carolina Department of Natural Resources (SCDNR) and the Charleston County Parks and Recreation Commission (CCPRC).  The releases are extremely well attended and attendees should plan to carpool, arrive early, and expect to pay for parking at the county park.
In 2008, an adult female loggerhead sea turtle was rescued off of Prichard's Island near Beaufort, S.C.  She was spotted on several occasions trying to lay a nest but was unable to due to several boat strike wounds on the carapace (shell).  "Mama Prichard" was captured on the beach and transported to the Aquarium's Sea Turtle Hospital where she received treatment for 20 months.  Released in 2010, Mama Prichard is the largest sea turtle ever rehabilitated and released from the Aquarium's Sea Turtle Hospital weighing 268 pounds.  Mama Prichard turned up again in the Lowcountry!  Scientists from the University of Georgia working closely with the South Carolina Department of Natural Resources on a DNA study of loggerhead nests have matched Mama Prichard's DNA to a nest recently laid on Prichard's Island.  This is the first time she has been matched to a nest since her release three years ago.  This story is a remarkable example of the success of sea turtle rehabilitation for which limited data is available.  The Fripp Island Turtle Team will continue to monitor Mama Prichard's nest.  To learn more about the Northern Recovery Unit Loggerhead Project, click here.
More on the turtles being released:
Splinter:
Splinter, a 60-pound juvenile loggerhead sea turtle was caught on board the SCDNR research vessel, the Lady Lisa, in late May.  The turtle was taken to the Aquarium's Sea Turtle Hospital with what appeared to be a large wooden splinter deeply embedded in the right rear flipper.  The Aquarium's rescue staff determined the material lodged in the turtle's flipper was actually a bill from a swordfish!  Splinter's treatment included surgery to remove the bill, antibiotics, fluids, and wound care.  After just two months of treatment, Splinter has been medically cleared for release.
Sutton:
Sutton, an 8-pound Kemp's ridley, the most endangered sea turtle species, was brought to the Aquarium's Sea Turtle Rescue Program in January of this year.  Sutton was found cold-stunned off the coast of New England and was flown down to the sunny south on a flight donated by pilot Michael Taylor.  Treatment included antibiotic and vitamin injections, fluid therapy, a healthy diet, and of course TLC.
Raker:
Raker, an 8-pound juvenile green sea turtle was discovered washed up on Myrtle Beach on a cold day in April of this year.  Named after the beach rakers that saved his/her life, Raker was suffering from multiple issues including a shell infection, poor blood work, dehydration, and a low heart rate.  An extremely low body temperature of 55 degrees F compounded the problem and the turtle was in intensive care for approximately 4 days.  Treatment included slow warming of the body temperature, oxygen therapy, antibiotics, fluids, and topical treatment for the shell infection.  Raker is back to optimal health, swimming around his/her containment pool, ready for a return to the ocean.
More about cold stunning:
When sea turtles are exposed to cold water temperatures for long periods of time, they undergo a hypothermic reaction.  Symptoms of that reaction include a decreased heart rate, decreased circulation, and lethargy, which may be followed by shock, pneumonia and in the worst case scenarios, death.  Sea turtles are affected by cold stunning because they are cold-blooded reptiles that depend on their environment to regulate their body temperature.  In cold weather, they don't have the ability to warm themselves and typically migrate to warmer waters around the end of October.
You can help care for sea turtles in recovery at the Aquarium's Sea Turtle Hospital by going to www.scaquarium.org and making a donation.  While online, you can also visit the Sea Turtle Hospital's blog at http://seaturtlehospital.blogspot.com/ to track the progress of patients currently being cared for at the hospital.  You can also find out more about visiting the hospital as part of a behind-the-scenes tour now offered seven days a week.