Saving Sothel Farm
Community garden-turned-social gathering place under threat from City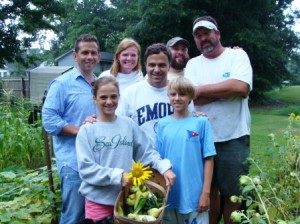 July 24, 2013
Special to GFP 4:03 pm
It started as most gardens do, with a few plants here and there and the hopes that with a little watering and composting, it might produce a meal or two worth of vegetables. For Mark Weatherford, however, those short rows of squash and peppers grew into more than a couple side dishes – it became the center of a community.
Located just off the West Ashley Greenway between Timmerman Drive and Nicholson Street, Sothel Farm has become an unofficial gathering place for the Byrnes Down community and frequent Greenway travelers.
"I've met more neighbors here than I've met in twenty-five years," says Christy Loftin, a homeowner from across the Greenway who stops by frequently with her dog, Morrissey.
In fact, it was the help of a somewhat distant neighbor that the garden became what it is today.
"It started about three years ago and we just kept adding on. A friend who lives down the Greenway began helping me about once a week and it grew from there. We planted the sunflowers last year for my daughter, who wanted sunflowers and a butterfly garden, and we've tried to keep it all in the tree line," says Weatherford.
Since then, Weatherford has been joined in his efforts by next door neighbors Will Boles and Kevin Rogers. At any given time, one or all three of Sothel farmers can be found weeding a bed, picking out nuisance insects or simply hanging out and greeting the passersby. But this quickly growing social center has recently caught the attention of the City of Charleston.
A couple weeks ago, Weatherford received a letter in the mail instructing him to remove the parts of the garden that are infringing on the Greenway within ninety days or the City would do it for him and bill him the cost.
That letter has ruffled more than a few feathers in the neighborhood.
"When I found out about this [the demand letter], I and a friend of mine immediately began blogging about the issue. We have to make sure nothing happens to this garden. In fact, the government originally wanted a community garden here in their plans for restoring the Greenway. Why pick on this garden which has become such a center of the community?" says Loftin.
"It's such a great gathering place for the neighborhood. It brings people out and it pays back. Some people have walked away with a handful of tomatoes and peppers and come back with a bowl of salsa to share. Others bring things they like to make, like homemade sorbet, just to say thanks," says next door neighbor Eric Main, who frequently drops by with his kids.
Main's son, 12-year-old Heyward Main, is particularly invested in the garden as he's using it to grow okra from seed for his Boy Scout gardening badge, and Caroline Main, 13, helps bring in more Sothel Farm fans by handing out fresh veggies to Greenway passersby.
"It's a good place for everyone to hang out and it makes you feel good to give a tomato to someone at random," says Caroline.
Eric Main, along with more than 160 others, has already signed a petition started by Loftin to save Sothel Farm and more people are signing their support by the day.
"These guys have cleaned up the West Ashley Greenway, planted, cared for and created the most beautiful garden for everyone to enjoy free of charge. There are no barriers , no conditions , they've never asked for a penny or even help. They are nothing but good, honest, hardworking folks trying to do good and pay it forward," Loftin explains in the petition.
Weatherford appreciates the support and says that overall, he's just happy to provide a fun gathering place for the community.
"None of us call it a community garden, it's more of a shared garden. We just grow vegetables and share them with everyone," says Weatherford.
Along with a cozy porch on the garden shed perfect for enjoying summer evenings and the occasional backyard bonfire on chilly winter nights, Weatherford and his dedicated co-gardeners have created more than a shared garden, they've created a sense of community reminiscent of earlier times when people made it a point to know their neighbors.
"We'll keep it going," says Weatherford. "We'll find a way."
To read more about Sothel Farms, visit www.Sothelfarm.tumblr.com. To read and sign the petition to save Sothel Farm, visit www.change.org and search for "Sothel Farm."