Re-Trend Returns to Tin Roof this Sunday
Swap your old wardrobe for new-to-you fashions at Tin Roof Sun., Aug. 18, 5-8pm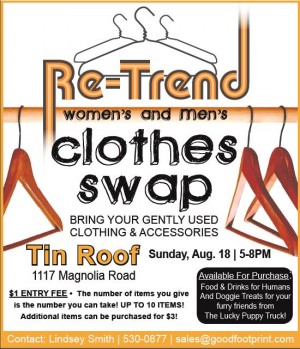 August 13, 2013
By Lindsey Smith Chambers 7:45 pm
Did you know that August 17th is National Thrift Shop Day? Re-Trend does and we want you to come out and celebrate with us the following day by swapping your old-to-you clothing & accessories to the next swap for a whole new wardrobe! The $1 Re-Trend Clothing Swap will be help at the Tin Roof 1117 Magnolia Rd. on Sunday, August 18, from 5-8pm.
Re-Trend, a nomadic clothing swap run by a couple local fashionistas set on keeping their closet fresh, cute, and unique without paying department store prices for it, will be holding the next public clothing swap for women and men's clothing and accessories.
The folks at Tin Roof will be bringing out The Lucky Puppy Truck, where attendees can purchase homemade treats, homemade puppy "ice cream," grooming supplies and toys.
Re-Trend welcomes your clean, gently-used, good quality women's and men's clothing of all shapes, colors, and sizes, as well as shoes and accessories such as purses, belts, hats, and scarves. We ask that you bring a maximum of 10 items (or less). This is a true swap, so if you bring five items, you can take five new items. When you arrive, you pay a $1 swap fee, then you will receive a voucher for the number of items you brought and we'll count your items and check off your voucher as you leave. Additional items can be purchased for $3 apiece.
So come out and Re-Trend yourself! Drink specials and snacks will be available for purchase, and all extra clothing will go to help a local charity. Re-Trend Clothing Swap will be held Sunday, August 18, 5-8p.m. at the Tin Roof 1117 Magnolia Road, Charleston, SC 29407.
Find Re-Trend on Facebook or email Lindsey at sales@goodfootprint.com. Find Lucky Puppy Truck on Facebook or email Lesley at Lesleycarroll1979@gmail.com.