Perfect Local Picnic Recipes
Local ingredient recipes perfect for your Fourth of July picnic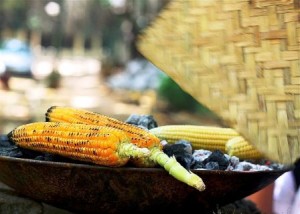 July 2, 2013
5:57 pm
While we unfurl our flags and stock up on fireworks for the upcoming Fourth of July, we're also busy trying to figure out what to feed the family and hopefully, how to keep it healthy. Fortunately, picnic fare presents plenty of opportunities for healthy, and locally grown, options. Following are a few recipes for in season produce as well as where you can pick it up in time for Thursday's festivities!
Variations on Corn on the Cob:
Whether you're boiling, broiling, or grilling your corn on the cob this year, here are a handful of topping variations that will help make that sweet summer corn a cob to remember:
butter and grated parmesan
herbed butter (butter mixed with a dash of lemon juice and chopped basil, chives, sage, or thyme or all of the above)
Old  Bay blended with butter
Curry powder blended with butter
Garlic butter
sour cream and chives
lime juice and salt (and a touch of cayenne pepper if you're feeling spicy!)
Guacamole
Tomato Pie
Nothing beats a delicious tomato pie, especially during the peak of tomato season!
2 or 3 Johns Island tomatoes
1 1/2 cup grated sharp cheddar cheese
1 cup mayonnaise
2 green onions, chopped
three sprigs of fresh basil leaves, chopped
salt and pepper
premade pie crust, baked and ready to fill
Preheat oven to 350. Slice the tomatoes and layer half in the bottom of the pie crust. Sprinkle with salt and pepper. Blend cheese, mayo, basil, and green onions and put half on top of tomatoes. Add the second half of the tomatoes and sprinkle with salt and pepper. Finish with remaining cheese mixture. Bake about 30 minutes and enjoy!
Tomato sandwiches: as God and Dukes intended
In the South we don't mess around with tomato sandwiches and this is the perfect time of year to enjoy those beautiful, ripe Johns Island tomatoes. The perfect tomato sandwich requires the following ingredients:
A fresh Johns Island tomato
Dukes Mayonnaise
Merita Old Fashioned White Bread
salt and pepper
Slather your bread with Dukes, add sliced tomato and sprinkle liberally with salt and pepper. Top with the second slathered slice of bread and you're set with the perfect southern summer sandwich!
And you can't go wrong with fresh watermelon! Not only can you use them for a seed spitting contest, you can always play a fun round of "catch the watermelon" in the creek by greasing down the whole watermelon with Crisco and letting the kids try to catch it and bring it to shore.
Where to purchase
You can still get local produce during the week and before the Fourth at the following locations:
Earth Fare in the South Windermere shopping center
Rosebank Farms, just before the Kiawah/Seabrook roundabout on Johns Island
Blackbird Market, at the corner of Main and Maybank on Johns Island
Stono Market/Tomato Shed Cafe on Main Road, Johns Island
Legare Farms, River Road on Johns Island
What are some of your favorite Fourth of July recipes?