New Belgium in Marion Square
New Belgium Brewing's Clips Beer and Film Tour Revisits Charleston on September 26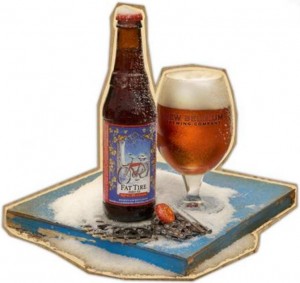 December 2, 2013
Special to GFP 2:37 pm
New Belgium Brewing is bringing its beer-toting, film-traveling, nonprofit-benefiting show back to your backyard. Clips Beer and Film Tour is coming to Charleston onThursday, September 26 at Marion Square. This is the fourth annual tour, which has raised more than $250,000 for nonprofit organizations since its inception. Last year in Charleston, approximately 850 people attended the show and raised more than $5,700 for Charleston Moves, which is the nonprofit partner again this year.
Clips offers a venue where guests can try New Belgium's most esoteric offerings while watching short films created by New Belgium fans. Up to 16 beer varieties will be on tap, including selections from the Lips of Faith series and brewery classics. The best part is that 100 percent of the proceeds from beer sales benefit local nonprofits working to improve communities nationwide.
New Belgium beers will be available in 3-ounce samples or a 12-ounce pour. Served up by local beneficiary volunteers, there's plenty of fun to be had alongside a host of traveling tricks and contests. Food from Hello, My Name is BBQ, Low Country Creole and Roti Rolls will also be available.
"Clips combines our love of hand-crafted beers with independent films while giving people a chance to enjoy an evening in the park," said Christie Catania, Clips Manager-at-Large. "As for films, there's something for everyone from comedies to short documentaries, and the beautiful thing is that you're drinking a beer under the stars, watching films and supporting your community."
New Belgium selects approximately 20 short films for the tour each season. All chosen entries for the 2013 tour will receive a custom gift from New Belgium and screenings in 21 cities. This year, the chosen films include mastering the technique of dice rolling; the quest for the ultimate full moon shot; a duel to be the hippest hipster; and homebrewing in a small New York City apartment. It's a diverse and highly entertaining line-up that can't be missed!
When:                         
Thursday, September 26 
Time:                         
7:00 p.m.
Where:           
Marion Square
Proceeds Benefit:
Charleston Moves (http://charlestonmoves.org), which encourages mobility by bicycle and on foot for the improved health and well-being of greater Charleston — its people, neighborhoods, business districts and overall economic competitiveness.
Recycling By:
Charleston Green Fair (www.charlestongreenfair.com) 
Cost:
Admission – free
3 oz. sample –  $1.25
12 oz. beer –  $5.00

Other tips:                         
Food is welcome; alcohol is not (leave that to us)
Bring low chairs or blankets to lounge on the grass
Entire families are welcome
Bring your I.D. if you plan to sample beers!
For the latest information on Clips, go towww.newbelgiumclips.com. For more information on New Belgium Brewing, visit www.newbelgium.com.