Lowcountry Coastline Gets A Good Cleaning
Close to 3 Tons of Debris Removed From Local Coastal Areas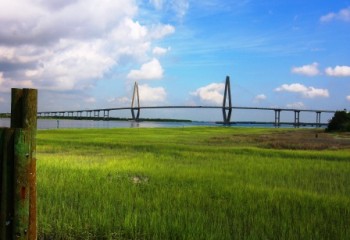 August 29, 2013
By Wounded Nature - Working Veteran 6:29 pm
Small boats from the Charleston area working in concert with Hanckel Marine and Wounded Nature – Working Veterans removed 3 tons of debris from our local coastline this past week.
Some of the unique items found during this cleanup included a dolphin skeleton, a wallet belonging to someone who died a couple of years ago, a porcelain toilet, and a refrigerator door.   Fran Rowley, who collected the refrigerator door from Drum Island under the Ravenel Bridge, stated "There is just so much debris out there, I am not sure how much of an impact we really made."
For that reason Milo Hanckel, owner of Hanckel Marine and Rudy Socha, CEO of Wounded Nature are already planning next year's cleanup.
"Many of these areas have been accumulating trash for the past twenty or thirty years"  states Rudy Socha.  "Because of these many years of neglect it will take years to return these areas to their pristine condition.  Unless you actually walk the high tide lines on these outer islands and rural coastlines, you cannot appreciate the volume of trash that has accumulated."
"We appreciate the time, money and effort that the Hanckel family, their customers and friends put into both the cleanup and the party they hosted after.  Next year's event will be even bigger and better.  Boaters who are interested in participating in next year's cleanup can get placed on the email notification list by sending us and email at: rudy@woundednature.org"