Literally Upcycled
Johns Island Big Book Sale this weekend, July 26 & 27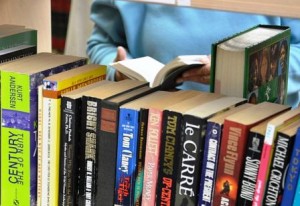 July 24, 2013
Special to GFP 4:48 pm
Three times a year, Charleston Friends of the Library hosts a book sale consisting of tens of thousands of donated books, CDs, DVDs and video games, the proceeds of which go to support our local libraries. Each event is highly anticipated by bibliophiles throughout the lowcountry and these sales never disappoint. From rare first editions to vintage cookbooks, hard-boiled crime, sci-fi, non-fiction, travel, classics and all points in between, no literary style is neglected.
If you're interested in picking up some great reads for the summer, check out the Johns Island Big Book Sale this weekend, July 26 & 27, at the Johns Island Regional Library, located at 3531 Maybank Highway. If you're a member of the Friends of the Library, there's also a special members-only sale on Thursday, July 25.
Other book sales this year will take place October 11 – 13 at the Omar Shrine Auditorium in Mount Pleasant, and December 6 & 7 at Mount Pleasant Regional Library.
For more information about Charleston Friends of the Library and upcoming book sales, visit www.charlestonlibraryfriends.org.