Goodwill's Undy 500
New undergarments to go with recycled clothing for veterans through Palmetto Goodwills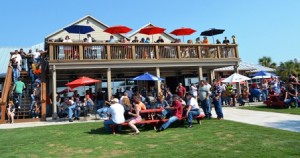 September 11, 2013
by Palmetto Goodwill 7:08 pm
One of the most noted upcyling and recycling companies in the United States, Palmetto Goodwill, held their 5th Annual Undy 500 motorcycle charity ride this past Sunday, Sept 8. The ride, which covered nearly 100 miles of the beautiful Tri-County, helps raise awareness of our homeless veterans and provides funding for programs and services that support our local homeless and struggling veterans.
The ride kicked off at Low-Country Harley Davidson with a blessing of the bikes from Palmetto Goodwill President & CEO, Robert Smith, presenting of the flags by the Fort Dorchester High School Color Guard and the National Anthem performed by Tracy Hughes. Riders made stops at local Goodwill stores before ending the ride at Red's Ice House at Bohicket Marina.
Over 360 riders donated thousands of pieces new undergarments to be distributed to veterans at the annual Stand Down Against Homelessness event. Over $12,000 was raised in support of our local veterans who are homeless and/or struggling.
Each year in October, Goodwill partners with the VA Medical Center for the Annual Stand Down Against Homelessness, a two day event, where thousands of veteran and community homeless receive medical and dental screenings, clothing, food, hygiene services, job assistance and legal counseling.
Goodwill's commitment to our veteran community doesn't end with the annual Stand Down; it continues throughout the year in the form of thousands of dollars' worth of clothing vouchers and job search assistance through a Goodwill funded program, VETS (Veterans Employment & Training Services Program). When grant funding ran out for this program several years ago, Goodwill's Board of Directors committed $200,000 annually to continue to reach out to veterans providing assistance in getting their lives back on track. Through VETS, Goodwill has touched the lives of nearly 200 homeless and/or struggling veterans and placed over 70 into jobs in our community.
Event sponsors include Low Country Harley-Davidson, Red's Ice House at Bohicket Marina, The Bridge, 98 Rock, Loomis and Board Spaces.
For more information about Goodwill's programs and services, please visit www.palmettogoodwill.org.