Goodwill: It's Electric!
Upcycled, Refurbished Electronics a Focus at New Palmetto Goodwill - Grand Opening Friday, August 16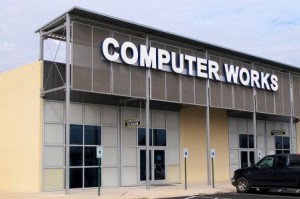 August 14, 2013
Provided by Palmetto Goodwill 2:39 pm
Palmetto Goodwill will be holding the Grand Re-Opening of its Clearance Center and Computer Works stores on August 16. The Grand Re-Opening will kick off with a ribbon cutting ceremony and the "Key to Goodwill" will be presented to Rhonda Jerome, City of North Charleston Mayor Pro Tem.
The new stores are located just down the street from their current locations at 6813 Rivers Ave, North Charleston. "The new facility features a brightly lit, clean interior that will allow for a more enjoyable shopping experience," said Robert Smith, CEO and President for Goodwill Industries of Lower South Carolina.
The Grand Opening day celebration will begin with a Ribbon Cutting at 10 a.m. and will include:
Enter to win a new grill!
Free hot dogs!
Goodwill's Computer Works store is a complete electronics sales and service store, offering refurbished desktops and laptops, gaming systems, video games, printers and much more! The store also features a walk up service desk that can provide a complete diagnostic of computers and gaming systems. The service desk offers low cost virus and spyware removal, system tune-ups, operating system installation and repair, and hardware trouble shooting and repair.
Goodwill has partnered with Dell Reconnect, a residential computer recycling program that offers an easy, convenient and responsible way to recycle used computer equipment. The hard drives of all donated computers are wiped clean utilizing Department of Defense software. Donated computers are then either refurbished and resold or properly recycled through the Dell Reconnect program. In 2012, Goodwill diverted 600,000 tons of e-waste from South Carolina landfills. Finally, Computer Works serves as a technology training facility for veterans and individuals with disabilities and other disadvantages to work.
Goodwill Industries of Lower South Carolina is a nonprofit social service organization whose mission is to help people achieve their full potential through the dignity and power of work. For more information about Goodwill's programs and services, please visit www.palmettogoodwill.org.