Going the Extra Yard
Carolina Clear and Clemson Extension launch local commercial for Carolina Yards program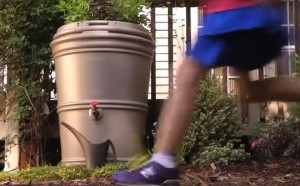 September 24, 2013
By Clemson University 6:49 pm
Illustrating the importance of public participation in water resources management, Carolina Clear, Clemson University's stormwater education and awareness program, and Clemson Extension have rolled out a new TV advertisement in markets across the state.
The 30-second ad, which will run on local TV stations until the end of October, seeks to raise awareness of the Carolina Yards program and encourage public participation.
Click here to watch the ad online.
The ad will be seen in Charleston, Berkeley and Dorchester counties; in the Columbia and Sumter areas; across the Upstate on WYFF; and across the Pee Dee and Grand Strand.
Clemson's Carolina Yards program works with yard owners, groundskeepers and landscapers to create healthy, watershed friendly landscapes. The program helps guide homeowners and others toward low-maintenance yards that have low environmental impact. Each action taken by an individual can help protect local waterways.
The Carolina Yards program also works with commercial growers, nurseries and landscape architects to utilize these principles during landscaping projects.
The program teaches homeowners how to plant trees and shrubs; minimize the need for fertilizers and pesticides; and install wildlife gardens that attract bees, butterflies and birds. Participants also learn how to create compost bins and plan yards that thrive mainly on rainwater.
"There are many effective and low-cost solutions homeowners can participate in," said Katie Giacalone, Carolina Clear's statewide coordinator. "Carolina Yards is a good example of a program that can involve the whole family and not only enhance a backyard, but help protect our cherished environmental resources."