Get Stomping!
Irvin House 2013 Grape Stomp Festival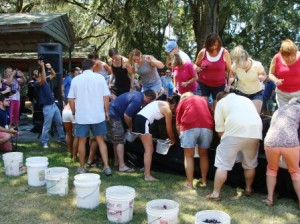 August 20, 2013
Special to GFP 6:47 pm
Irvin-House Vineyards welcomes one and all to their annual Grape Stomping Festival this Saturday, August 24, from 12 p.m. to 5 p.m.
Located off of Bears Bluff Road on Wadmalaw Island, Irvin-House Vineyards is home to the internationally renown Firefly Distillery, as well as Charleston's own muscadine vineyard.
Wine and the vineyards famous Wine-A-Ritas will be available for sale during the event and wine tastings will take place at scheduled times.
Enjoy live music, local craft vendors, a jump castle, face painting and hula hoops for "little stompers," and two contests: A Lucy Look-a-Like competition and a Grape Stomp challenge.
"I Love Lucy" fans will be able to celebrate one of the greatest actresses of all time by donning their best Lucy costume to reenact the famous 1956 episode where Lucy learns to make wine in Italy.
For those who want to really show off their grape stomping skills, however, a team Grape Stomp contest will be held to see what team can get the most juice from 20 pounds of grapes in three minutes.
To sign up for the Grape Stomp contest, please call the office at 843-559-6867.
Grape Stomp Contest Rules
1. Each team shall consist of two persons. One person, the Stomper, stands inside the barrel and stomps the grapes, and the other person, the Swabber, stands outside the barrel and catches the juice in the bucket provided. The Swabber, may also reach inside the barrel to assist the Stomper and ensure a free flow of juice through the screen and out the drain spout.
2. The screen must completely cover the drain spout inside the barrel at all times.
3. Stompers may not enter the barrel until the starter begins the stomp. Stompers must stomp in an upright position and may not use their hands for support in any way. Stompers my use their hands only to enter and exit the barrel, and to regain balance if necessary,
4. Teams are judged by the amount of juice accumulated in the bucket.
5. Each team will have 20 lbs. of grapes and be given 3 minutes to stomp.
6. Have Fun!!!
The festival is $10 per car and a portion of the proceeds will be donated to a local charity TBD. For more information, visit www.irvinhousevineyards.com/grapestomp.