From Zombies to Light Bulb Technicians
County Parks is looking for a few good hands this fall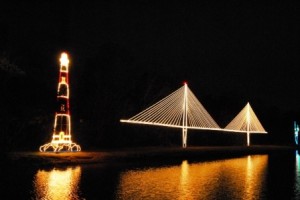 August 19, 2013
By CCPRC 3:20 pm
Whether it's stringing lights or encouraging festival attendees to recycle, if you have a little extra time, you can make a big difference to your Charleston County Parks this fall! Best of all, you can earn some great rewards by volunteering for your Charleston County Parks. The Charleston County Park and Recreation Commission (CCPRC) is seeking enthusiastic volunteers to work at park special events and activities.
Benefits include meeting new people, trying new things, being involved with your community and, even getting access to area parks and attractions for free!
Volunteers who complete 30 hours of service this year can earn an ID that grants access to CCPRC facilities! This ID will also allow admission into select Charleston attractions.
Volunteers are being recruited for a variety of events and duties at:
The Holiday Festival of Lights
Harvest Festival
Latin American Festival
Youth Sports
Lowcountry Trail Half Marathon
rUNdead Charleston
And more
Volunteers with CCPRC are not required to fulfill a minimum number of hours. All hours supporting the agency are greatly appreciated. Individuals who serve over 30 hours by the end of December 2013 will receive a PRC Volunteer ID, which is good for one calendar year.
Interested in finding out more about CCPRC's volunteer program? Contact Volunteer Coordinator Erin Guerrero at eguerrero@ccprc.com for details. To submit a volunteer application for consideration, visit www.ccprc.com/volunteer.
For more information on the Charleston County Park and Recreation Commission and its events, visit www.ccprc.com.