Farmers' Breakfast
Angel Oak Restaurant to host bi-monthly breakfasts straight from the farm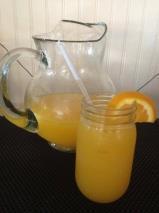 July 31, 2013
6:23 pm
Join Legare Farms and Angel Oak Restaurant as they host their now bi-monthly Farmers' Breakfast on Saturday, September 28. The initial breakfast on July 20 was such a success that Angel Oak is now offering two seatings, one at 8:30 a.m. and the second at 10 a.m. Each diner will be able to choose from three meals and while the dishes haven't been announced yet for the September 28 breakfast, the July event featured the following dishes:
Chicken and Biscuits: buttermilk fried boneless chicken breast and two biscuits smothered in sawmill gravy
Eggs Benedict: poached farm eggs, ham, hollandaise over English muffins and local arugula
Farmers Plate: farm fresh eggs, any style, Greechie Boy pimento cheese grits, sausage, tomato slices, and toast.
All produce, eggs, and pork are provided by Legare Farms, located just up the road on Johns Island. All breakfast plates include choice of iced tea, King Bean coffee, or juice and reservations are recommended. Cost is $12 per person. Please visit angeloak.eventbrite.com for reservations or call 843-556-7525.
NOTE: Legare Farms is also accepting new members for their Fall CSA vegetable program, which starts around October 1. The season lasts six weeks, so costs are only $157 for a full share and $115 for a half share. For more information, visit www.legarefarms.com/CSA.