Easy As Pie, Apple Pie
Celebrate apple season with this super-simple apple pie recipe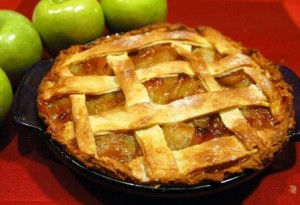 September 11, 2013
By Kristin Hackler 7:33 pm
Now that locally grown apples are starting to show up in farmers' markets and locally sourced groceries, it's time to start breaking out the apple recipes! Following is a tried and true apple pie recipe that has been shared by all the women in my family, not only because it's incredibly delicious but also because it's so simple to make! So prepare to impress your friends and take advantage of this season's apple harvest with this quick and simple apple pie recipe:
Simple and Delicious Apple Pie
Ingredients:
Recipe for two, 9 inch pie crusts or 2 ready-made 9 inch pie crusts
1/2 cup butter
3 T. AP flour
4 T. water
1 cup sugar
1/4 cup molasses (I love the one they carry at Blackbird Market on Johns Island, but use your favorite)
3 – 4 of your favorite apples, peeled and thinly sliced
Directions:
Heat the oven to 425 degrees.
In a saucepan, melt butter and mix in flour, water, sugar and molasses. Bring to a boil and then drop to simmer. Allow to simmer while preparing crust.
Fill one pie crust with prepared apple slices, allowing them to mound slightly at the top.
Take second pie and slice into strips, using strips to create a lattice over the apple slices.
Slowly pour the simmering sugar liquid over the lattice-work, allowing it to sink in between the pastry and apples and being sure to coat the lattice-work as much as possible. Do not let the liquid run off the sides!
Place pie on a flat pan to catch any bubble-off liquid and place in oven.
Bake at 425 for 15 minutes, then at 350 for 35 – 45 minutes.