Dungannon Heritage Reserve Reopens to Public
As wood storks move out, visitors are welcome to return to the park's boardwalks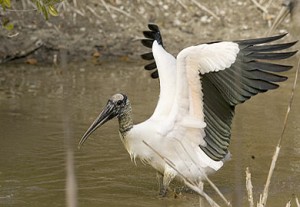 September 18, 2013
By SC DNR 6:08 pm
The boardwalk at the Dungannon Plantation Heritage Preserve (HP) has been reopened because the wood stork nesting season has concluded. All trails are open for public use. This season, 228 stork nests were counted at Dungannon. The storks nested successfully at Dungannon this year. Additional information about the 2013 wood stork nesting season will be posted on the S.C. Department of Natural Resources Wading Birdwebsite this fall.
In 1984, wood storks (Mycteria americana) were listed as a federally endangered species. The United States breeding population of wood storks was listed as endangered after nesting pairs declined from between 15,000 and 20,000 in the 1930's to 2,500 pairs by 1978. Historically, wood storks have used South Carolina as a post-nesting foraging area during the summer and fall. In 1981, the first successful wood stork nests were documented in South Carolina (11 nests). Currently, there are approximately 1,500 – 2,000 wood stork nests in South Carolina each year.The Dungannon Plantation Heritage Preserve offers excellent habitat for many migrating and breeding songbirds and a variety of native wildflowers including large stands of wild Easter lily and five species of orchids. Dungannon HP is about 17 miles south of Charleston on SC Highway 162, four miles from the turn-off from US Highway 17. The management road system provides easy walking through open hardwood forest. No motorized vehicles are allowed. The preserve is open seven days a week during daylight hours.
People who are interested in viewing nesting wood storks are encouraged to visit the Donnelley Wildlife Management Area in Green Pond. Nesting wood storks can be observed from a safe distance from the dike near the office.