Cooke to Kick Off Canoe and Kayak Festival
Adventure kayaker Spencer Cooke will introduce the film "How to Go Surf Kayaking" at this year's festival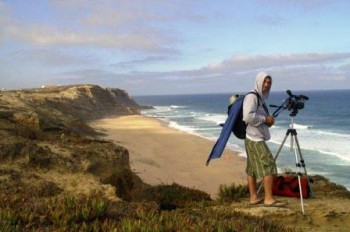 February 20, 2013
7:22 pm
The popular East Coast Canoe and Kayak Festival is expanding to include a variety of outdoor activities! The event, now called the East Coast Paddlesports and Outdoor Festival, will be on April 19-21 at James Island County Park, and will feature a multitude of popular outside activities in addition to paddling.
This year's featured speaker will be adventure kayaker Spencer Cooke, who helped create the film "How To Go Surf Kayaking." With kayaks in tow, Spencer and his surf paddling friends have traveled the world looking for any opportunity to play in the waves. Initially surfing at home on the Carolina coast, up to New Jersey and south to Florida, a decade of surf trips also took the group to California, Costa Rica, Morocco, Portugal, Nicaragua, Ecuador, Ireland and Panama. Join Spencer for an exciting video presentation about his adventures and challenges that many outdoor enthusiasts and travelers can relate to, from getting rental cars stuck in giant mud pits and contracting dengue fever from mosquito bites, to dealing with airlines misplacing or breaking boats.
Continuing as one of the premier paddlesports events on the Atlantic Coast, the East Coast Paddlesports and Outdoor Festival will feature other recreation-related activities in addition to its showcase of paddling sports. The festival will bring together enthusiasts of all ages and experience levels with world-renowned instructors and equipment manufacturers.
Watch an awe-inspiring slack line demonstration by the Gibbon Slack Line team, and then try it out yourself. Learn about Leave No Trace ethics and ways you can be a good steward to the environment while camping or spending time outdoors. Hear about the park's adaptive recreation programs tailored to individuals with disabilities. Try out mountain biking, archery and disc golf. Scale the park's portable climbing wall or high ropes course. After getting your fill of outdoor excitement, enjoy tasty fare from food vendors on site at the park, as well as beverages, including beer.
As a special sneak peek of the event, the public is also invited to attend the Reel Paddling Film Festival on Thursday, April 18 at Edisto Hall in James Island County Park.
For more information and an event schedule, visit www.ccprc.com/outdoorfest. Volunteer opportunities are available – email eguerrero@ccprc.com for details.