Celebrate a Year of Crafting
Spacecraft Studios celebrates their one year anniversary with an in-shop party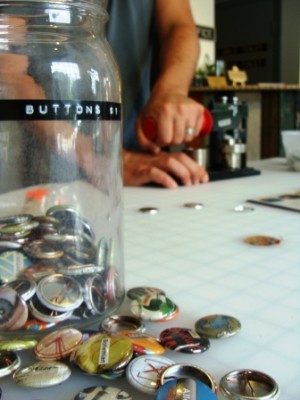 August 20, 2013
Special to GFP 6:07 pm
Support local businesses and the earth with some good old fashioned upcycling while celebrating Spacecraft Studio's one year anniversary this Saturday, August 24! Runaround Sue Vintage Clothes will be on the Spacecraft premises from 11 a.m. – 5 p.m. with vintage hats, jewelry, aprons, clothing, scarves and more.
Find the perfect outfit but it doesn't fit quite right? Charleston artist and seamstress Camela Guevara will be on-hand to tailor your outfit to a t from 11 a.m. to 4 p.m.
Try your hand at "quick crafting" with $1 make-your-own buttons from vintage magazines and sewing patterns, as well as peruse the boutique craft studio until 5:30 p.m. Auto-Banh food truck will be serving food from 3 – 6 p.m. and cold drinks will be on hand.
Kids will also be able to check out the fun crafts available on Spacecraft's "fantastic art cart."
Drop by and celebrate one small step for crafters and one giant leap for Spacecraft Studios this Saturday, August 24!
For more information, visit the Facebook page or go to  http://goo.gl/8qAts2