Catch the Buzz about Thrive Farmers Coffee at Earth Fare
Thrive Farmers Coffee to visit Earth Fare on Friday, October 12 and Saturday, October 13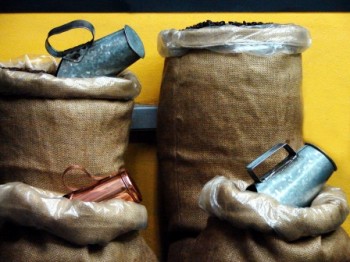 October 10, 2012
Special to Good Footprint 2:37 pm
Earth Fare will be hosting a coffee tasting with THRIVE Farmers Coffee Friday and Saturday from 11am to 3pm at their location on 74 Folly Road Boulevard.
"We are excited about our partnership with Thrive because we're all about supporting the farmers. We love that you can look at the coffee bag and see who's growing the coffee and know you are directly supporting the farmer and their community. Not to mention that the quality of the coffee  is amazing," says Corinthia Mintz, Specialty Store manager.  Customers will also have a chance to win a year's supply of free coffee and a grand prize of an Artisan Brew Package, including everything needed to brew the perfect cup of coffee.
Thrive Farmers is an innovative new coffee company that is changing the way coffee does business by connecting consumers directly with the farmer. While coffee is the second most consumed beverage in the world, the typical farmer receives pennies per pound of their coffee's retail value – barely enough to live on.
"Our goal is to provide consumers with hand-crafted specialty coffee directly from the farmer and to give farmers the opportunity to participate as true stakeholders in the product they produce," says Michael Jones, one of the founders and CEO.  "We do that by cutting out the middleman, which yields upwards of 5 to 10 more than Fair Trade."
THRIVE Farmers grow, process and advance their coffee to market, without getting paid, just like  at your local farmer's market.  This returns sufficient income allowing for sustainable coffee farming.
With over 425 farmers across six regions in three countries, THRIVE Farmers is on track to represent every major coffee growing region in the world, while providing consumers with the ability to support the success of the farmers and their community.
The coffee is currently being sold to specialty retailers, roasters, and coffee houses. Earth Fare, one of the largest natural food retailers in the nation with 28 stores in eight states, is the first major retailer to carry Thrive Farmers Coffee.
Thrive Farmers is transforming the world of coffee by providing a platform through which farmers participate as true stakeholders in their crops for the first time in the history of coffee. Farmers only earn money when coffee is actually sold in the marketplace which aligns the interests of the consumer with the producer, who can make 5-10x the profits of so called "fair" trade models. The Thrive Farmers model was pioneered in Costa Rica beginning in 2009. The company, based in Atlanta, GA, provides artisan quality specialty grade coffee and includes farmers from some of the world's major coffee growing regions and is being expanded globally. To learn more, visit www.thrivefarmers.com.