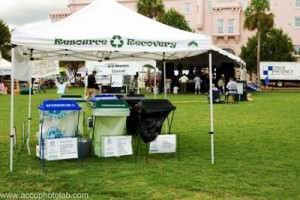 July 29, 2013
Provided by Carolina Green Fair 4:46 pm
After five years in Marion Square, the September 22nd Green Fair is moving to James Island County Park and joining forces with Charleston County Park & Recreation Commission and Charleston County Environmental Management to make 2013 the best and greenest year to date!
Carolina Green Fair launched in 2008 in Marion Square and became the first nearly waste-free event with an 85% waste diversion. Since that first year, the Fair averages an incredible 95% of its trash diverted from Charleston County landfills and has set the standard for other large scale events working towards their own green initiatives. Over the years the Green Fair has worked with the Charleston County Park and Recreation Commission (CCPRC), both at the Green Fair, featuring the CCPRC Climbing Wall and the CCPRC Cajun Festival at James Island County Park, working to divert over 85% of the waste at that event. In 2012, CGF and CCPRC expanded their relationship by partnering to put on the Carolina Dirt Fair at Mullet Hall in Johns Island. That successful partnership started discussions about moving the Green Fair to James Island County Park and begin a whole new chapter for the Carolina Green Fair.
With a beautiful new location established at James Island County Park, this year's Green Fair is ready to bring back the best programs and activities from past years and a whole new set of green themed adventures for 2013. In addition to the popular New Belgium Beer School (back for their 4th year), ITSC & Direct TV Solar Sunday NFL Ticket, The Green Style Market and Fashion Show, Re-Trend's Clothing Swap and the family favorite, KidZone & Eco-Carnival; Fiery Ron's Home Team BBQ is going to spearhead the Green "Fare" and Cooking Demos, featuring local Chefs and Foodpreneurs. The Medical University of South Carolina will have a variety of demonstrations and sessions showcasing not only health and wellness, but their Urban Farm Initiative, Outdoor Fitness and much more. The new location also allows for more adventure and an opportunity to highlight all that Charleston County Park and Recreation Commission has to offer. CCPRC staff will lead nature walks throughout the park and feature their Climbing Wall and many other "Try It" opportunities like slack lines and archery, making this year's Fair fun for people with a large variety of interests.
As the Presenting Sponsor of this year's Carolina Green Fair, Charleston County's Environmental Management Department is excited to share all of their plans for making living in Charleston County more sustainable for its residents. When asked about Charleston County's involvement in this year's Green Fair, Charleston County Council Member, Colleen Condon said, "Charleston County is pleased to become a sponsor of the Charleston Green Fair for its 6th year as the Fair moves to beautiful and spacious James Island County Park. The County has committed itself to leadership in sustainability, transforming our trash into commodities and improving the quality of life. Showcasing these and other green practices is a way we can keep our County a leader in the Southeast." Charleston County plans to highlight the County's green initiatives, such as recycling and composting, at the Green Fair. County Staff will also be available to educate residents on the many offerings available to make their homes and businesses more eco-friendly.
Carolina Green Fair is excited to invite back for their third year, Crews Subaru of Charleston as the Exclusive Auto Sponsor. Crews will be showcasing their adventure ready and eco-friendly line of Subarus in James Island County Park. They will have something on four wheels for everyone at the Fair!
Continuing its mission to create excitement and enthusiasm for green practices, products, services and technologies available to the residents of South Carolina using an environmentally responsible forum of education and entertainment, this year's Green Fair is sure to make sustainability fun for all ages. Showcasing some of Charleston's most popular bands on their Main Stage, delicious food from the Lowcountry's favorite green-minded restaurants like Home Team BBQ and Verde and food and beverages from perennial favorites New Belgium Brewery and Bota Box Wine, the Fair will be a feast for all of the senses. There to make sure nothing goes to waste will be Eco-Products and Food Waste Disposal providing all compostable paper products and sorting and delivering them to Charleston County's Bees Ferry Compost Facility.
Original Co-Founder and Print Media Partner, Charleston City Paper will once again include the Carolina Green Fair Event Guide as an insert in their September 18th issue of the Charleston City Paper. Find out in advance about all the incredible green businesses with products and services available right in your own backyard. We look forward to seeing you on September 22nd at James Island County Park. The fun begins at noon!