Bury Me Green
How green funerals help cut down on your last carbon footprint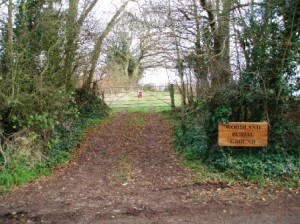 July 24, 2013
by Shawn Dell Joyce 4:11 pm
Most of us hardly give a thought to planning our own funerals. We would prefer to leave that to our relatives, along with a hefty insurance settlement to pay for the whole thing.
Yearly, 50 million people die. In our country, 22,500 cemeteries bury approximately 30 million board feet of hardwoods, over 100,000 tons of steel, copper and bronze, and a million tons of concrete, all soaked in 827,060 gallons of formaldehyde and other embalming fluids, according to the Casket and Funeral Supply Association of America.
That's a lot of resources and chemicals being sent to their death to shelter an already deceased corpse. Many Americans, 21 percent over age 50, would prefer an eco-friendly end-of-life ritual, according to a recent survey. Consumer demand is pushing the funeral industry to use more Earth-friendly burial methods.
If you're concerned about going out of this world in a greener way, here are some things to consider.
Cremation uses less resources than a traditional burial, but is still not considered green because it uses a large about of fossil fuels.
Embalming is pumping the body full of formaldehyde and other chemicals that are considered environmental pollutants. In green funerals, the body is preserved for viewing through refrigeration and the use of dry ice.
Caskets are traditionally made from hardwoods preserved and varnished with caustic chemicals. Green and biodegradable caskets are made of plain wood, cardboard or even paper mache. You can find these caskets at the Passages International website.
Burial vaults and grave liners are unnecessary in an era without grave robbers. No state or federal laws require use of a vault, though a cemetery can insist that one be used.
Green cemeteries are dedicated to providing a natural setting for green burials without chemicals, using biodegradable caskets, native plants and minimal grave markers.
Home funerals are funerals that take place in a private home, with a doula or midwife trained in assisting grieving families. These funerals are often more personal and use far less resources (including money) than traditional funeral parlors.
Home burials on private land are the most green, being the way nature intended us to leave this world, but may be difficult to do legally. Information and advice on how to be buried on your own land can be found at the Green Burial Council website.
Many cemeteries are allowing natural burials, and greener practices. Check out www.aGreenerFuneral.org, for help finding one near you.
Shawn Dell Joyce is an award-winning columnist and founder of the Wallkill River School in Orange County, N.Y. You can contact her at ShawnDellJoyce@gmail.com. To find out more about Shawn Dell Joyce and read features by other Creators Syndicate writers and cartoonists, visit the Creators Syndicate Web page at www.creators.com. COPYRIGHT 2013 CREATORS.COM