As Local As It Gets At Tomasso
Chef Nick Hunter heads up planting of new kitchen garden at Tomasso Restaurant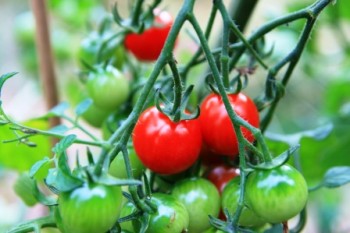 May 28, 2013
Special to Good Footprint 7:05 pm
Kiawah Island Nature Center recently recognized the sustainable efforts of Chef Nick Hunter of Tomasso at the Turtle Point Golf Course.
While working on ways to supply the Italian-inspired restaurant with more local produce, Chef Hunter thought it would be a good idea to grow a small garden specifically for supplying Tomasso. With the help of his daughter, Grace, and the Tomasso staff, Chef Hunter planted a garden with produce perfectly suited for the Johns Island environment. The small plot includes seven tomato varieties, eggplants and several kitchen herbs. Chef Hunter notes that the garden should be able to supply the restaurant with tomatoes through the best of the tomato season. All of the produce grown in the kitchen garden will be featured throughout the growing season on the specials menu and other branches of the Kiawah Island Resort are looking for ways to bring more local produce into the Kiawah Island restaurants.
For more information about the Tomasso garden and upcoming specials, please visit the Kiawah Island Resort blog.