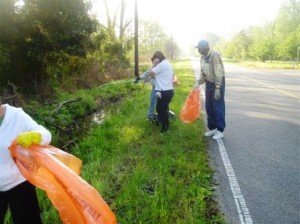 August 7, 2013
Special to GFP 4:43 pm
Charleston County Adopt-A-Highway will hold its next litter cleanup on Saturday, September 7. In case of bad weather, the cleanup will be held on Saturday, September 14.
Throughout the county, volunteers will be picking up trash on our roadsides during the cleanup event. Volunteers can pick up supplies on Wednesday, September 4 from 9 a.m. – 3 p.m.  at S.C. Department of Transportation's Charleston Maintenance facility located at 2401 Maintenance Way in North Charleston.
"On the cleanup day, drivers are asked to be especially alert and mindful of pedestrians who are working to beautify our surroundings and protect our environment," said Vonie Gilreath, Chairman of Community Pride, Inc. of Charleston County.
During 2012, over 2,000 volunteers removed more than 50,000 pounds of litter from primary and secondary roads.
In Charleston County, the Adopt-A-Highway program is coordinated by Community Pride, Inc., an organization sponsored by the Clemson Cooperative Extension Service.
For more information on the September 7 Adopt-A-Highway litter cleanup, contact Angela Crouch by phone at (843) 722-5940 extension 112 or by e-mail at acrouch@clemson.edu.